The 60's will always be known as the rebellious period in which people found their "voice" globally and weren't afraid to use it to express their uniqueness, displeasure, or general need to go against the status quo. So went the fashion trends as women burned their bras in protest of oppressive attitudes towards women, and hiked up their hemlines to celebrate their new found freedom. For the 70's think John Travolta in bell bottom trousers, midriff tops, platform heels and the emergence of the bohemian hippie look. The 80's were spiky hair, neon, extreme shoulder pads and legwarmers……nothing "smooth from five feet" as stylists often advise.
Within this climate these beautiful faces reached the apex of their celebrity, shining out from magazines, television or film screens, often in fur looks, proving that fur is timeless and always in fashion.
Diana Ross
One of the enduring faces of Motown records, Ms. Diana Ross was a bonafide doe eyed diva long before it became an art-form. A singer, an actress, mother of 5, and a legend all describe this beautiful lady who has entertained audiences worldwide for over 5 decades. Recognized by the Guinness Book of Records in 1993 for being "The Most Successful Female Artist of All Time" this woman is nothing short of supreme! Also enjoying a brief movie career, Ross starred in Lady Sings the Blues, Mahogany, The Wiz, Out of Darkness, and Double Platinum. Known for her sultry vocals, Ross was looked at across the board as being a fashion trendsetter of her time, which was especially difficult due to the racial inequities that existed for African Americans at the time.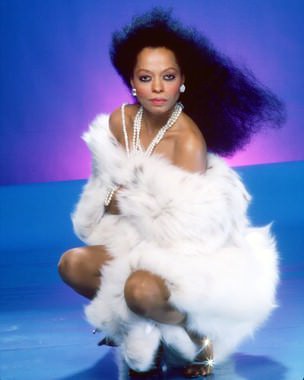 Raquel Welsh
Sultry, curvy and seductive, this home grown symbol of exotic beauty will always be famous for her pin-up picture from 1966's "One Million Years B.C." Savagely beautiful and untamed this brown-haired beauty has been at the top of the most beautiful people lists around the world. If sex appeal was a currency, then Raquel was the richest woman on earth in the 60's and 70's….and still remains at the top of the heap!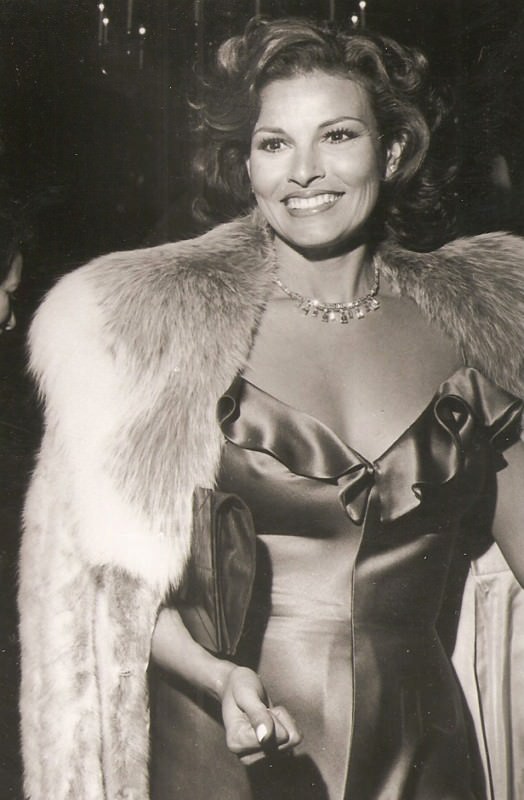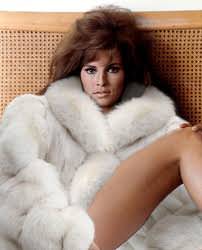 Farrah Fawcett
By far the most popular of all of Charlie's Angels, Farrah Fawcett with perfectly feathered locks and Colgate smile was America's darling during the late 70's and early 80's. Not only did her trademark hairstyle inspire women of all ethnicities globally, but the show's quirky and sexually infused use of wardrobing to tell the story of these beautiful undercover agents set many fashion trends as well. In an iconic poster Farrah donned a simple yet reveling red bathing suit that made her the stuff that dreams are made off for millions and millions of men/boys everywhere (this FurInsider had one in his college dorm room!). A wide collar on a sexy fitted button down shirt with equally fitted blazer or vest was the uniform of the fashionable business woman thanks to Farrah. One of her most memorable acting gigs, the TV movie "The Burning Bed" in which she played an abused wife who eventually sets her husband on fire, was far less glamorous and sexy, yet still showed that this lady was more than just a pretty face…she could act! But, it was her final act of sharing her valiant battle with cancer publicly that will be her greatest legacy. Sadly she passed away in June of 2009 but in our mind's eye she remains the fresh-faced all-American girl of our dreams.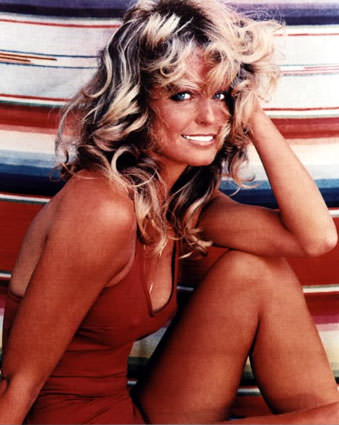 The infamous red bathing suit poster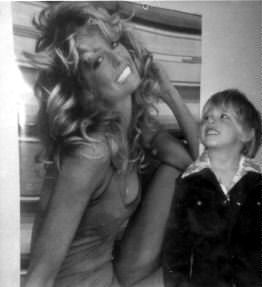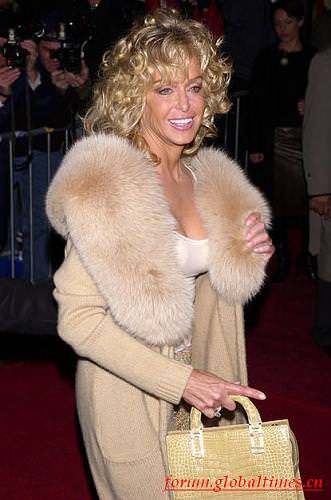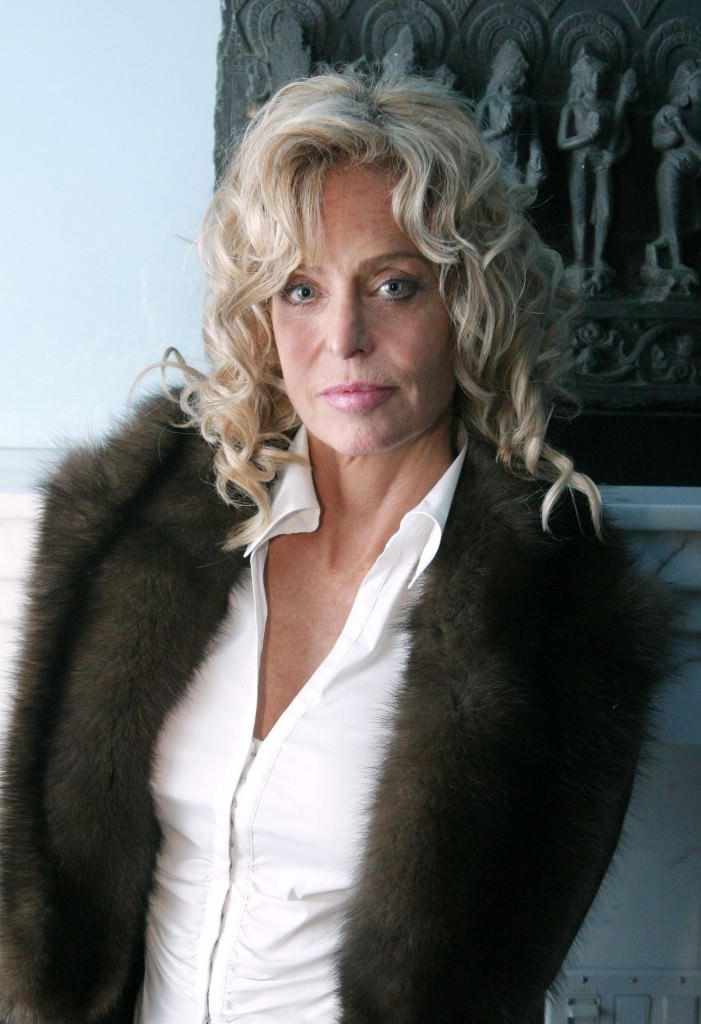 Farrah kept if together through her tough battle against cancer
Joan Collins
The grande-dame of glitz and glamor in the 80's Joan Collins was, and still is, class personified. Perhaps it's the crisp English accent, the razor sharp wit, or her jet black raven hair– but most likely it's a combination of all of her brilliantly unique attributes that made this beautiful stunner so unforgettable and regal.
Not widely remembered for her long film career which started in the 50's and spanned to the late 70's Joan starred in memorable films, including "The Girl in the Red Velvet Swing" (1955) and "Rally 'Round the Flag, Boys!" (1958). Her roles in the films based on the best-selling novels by her younger sister Jackie Collins: "The Stud" and its sequel "The Bitch" gave face to an era of glitz, reckless sex and excess that Jackie Collins was heralded for capturing so perfectly. Perhaps it was this lasting imagery in these precursor roles that landed Joan Collins the marquee role of her lifetime as Alexis Colby in the 1980s prime time television hit soap opera "Dynasty". Big hair, dramatic shoulder pads, lots of sequins and diamonds, and even bigger attitudes helped set the fashion trends of the '80's as the stock market shot up and the wealthy were everywhere. These same fashion trends helped to cement this show as iconic television for generations of viewers. The man behind Dynasty's costumes, celebrated designer Nolan Miller, became known as the "king" of sophisticated dressing and even enabled the show to launch their own fashion collection called "Dynasty".