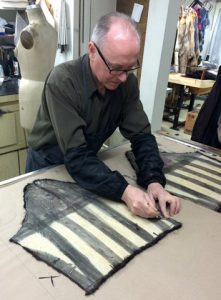 The craftsmanship involved in manufacturing a fur is a labor of love. Because every fur pelt is unique, creating a fur garment is a hands-on process that can never be automated. Every fur garment represents weeks of specialized labor and fine hand craftsmanship. In an age of mass production, the fur trade continues to preserve skills that have been passed down for generations. Fur manufacturing is an artisan endeavor that requires a high level of expertise and artistry.
As designers explore fur's infinite versatility, they are increasingly treating it with the same creativity as fabric. With innovative techniques that show no bounds, their creative process reflects furs that are intricately draped, beaded, embroidered, laser-cut, stenciled and fringed.
Currently, with environmental concerns, fur is seen as a more sustainable material choice. Fur can last for decades with proper care and storage, and it is biodegradable. Fur can be repurposed and upcycled for generations. It is purchased for this longevity. Conversely, faux fur is made from plastic and is not biodegradable.
Manufacturers use high quality mink and other furs that are sustainably sourced from fur farmers and trappers. Natural fur serves as a long-standing pillar of luxury with an appreciation of a hands-on craft. With much fashion attention to mixed mediums, fur manufacturing can address combining several furs into a silhouette or putting a fur collar on a leather coat drawing the attention of a younger generation searching for distinctive eco-friendly fashion choices.
Meticulous fur craftsmanship allows for an inherent respect for the material of fur. The workers who create fur garments are true artisans with extraordinary expertise and who take much pride in the true artistry of fur. They are creating a garment not just for one person, but a heritage item that can be passed down through the generations.