June is here and so is wedding season. The words "I do" for a bride are the two words she has most often dreamed about before she was even able to grasp their true meaning. A wedding day is a cherished and highly anticipated event in the life of most women and the wedding dress is the focal point of that vision. Setting the scene and bringing that personalized and unique dream to reality is what wedding dress designer Monique Lhuillier has been specializing in for over 20 years.
The Monique Lhuillier Journey
Born in Cebu City, Philippines, Monique Lhuillier started her bridal design specialization and launched her line in 1996 at the age of 21 purely out of a personal need. At the time she recognized the frustrating and futile effort of finding a truly special dress for her wedding day. Upon launching the business, Monique wanted to create a magical dress that would suit every woman and allow the bride to sparkle. Thus her very first design, the "Laura" dress was born and it sold like hotcakes!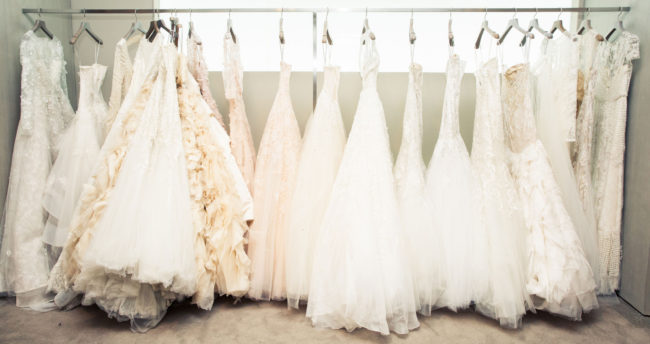 A Monique Lhullier wedding dress began to represent the dream gown that many sophisticated and self confident women were looking for. The brand captured the hearts of women who wanted to exude a polished dose of sex appeal and class on their special day without running the risk of looking dated. Monique's ability to walk the line between incorporating subtle contemporary trends without losing the traditional grand and formal feel of "typical" wedding dresses is what drove the demand for her creations.  The woman of NOW finally had a designer that reflected her complex needs.
After the first seven years of building her brand image from the ground up, Monique ventured out and started to incorporate bold and muted pastel tones into her line. She also began to reinvent the option for the entire bridal party by creating chic, and stylish cocktail dresses and eveningwear that went well beyond the "one and done " use pattern that defines most bridesmaids dresses.
She didn't stop there. In 2005 Monique went back to her traditional fashion design roots and launched an impressive Ready-to-Wear collection which continued the brand's tradition of luxe glamour catering to the strong and self-aware woman of today.
A huge part of Lhuillier's success has been her strong celebrity following and appeal. From A-lister's wedding nuptials, to their walks down the most important Hollywood red carpets; they all clamor to wear her pieces.
Adding another unique layer to the brand in 2016  the now ready-to-wear fashion designer/bridal designer,  teamed up with Pottery Barn Kids to collaborate on a gorgeous furniture and home decor collection for babies, and kids. Whimsical and stylish, many of the pieces were so versatile that they could be integrated into any room of a  home!
Monique is very proud of her Filipino roots and works on many projects to help bring funding and supplies to the most rural and needy areas in the Philippines.  After a devastating 2014 typhoon ruined the city where the designer was raised, Monique raised money and contributed her time to join the rebuilding efforts in person with my family. The designer is also very active in raising funds for Operation Smile and the Breast Cancer Research Foundation.
Monique has crafted a charmed life for herself, creating memories and ushering in dreams for women around the world. Her ability to make life a little more magical, one lace applique at a time, will always make her a DIVA We LOVE!
Related articles